PRODUCT CATEGORIES
CONTACT US
Add:No.48 xindong east road,dongtai,jiangsu,china
Tel:18962034806
Fax:0515-85221162
E-mail:zds.jiangsu.cn@263.net
Contacts:Mr.zhudongsheng
INTRODUCTION:
RODUCT NAME: STEEL WOOL ROLLS
MATERIAL:Low carbon steel
ITEM NO.: DGR-004
PACKING DETAILS: 5g/p, 12p/bag, 72bag/ctn, 0.049m3/ctn
USAGE: Cleaning and polishing the surface for wood ,metal,glass and so on.
FEATURES:
1.100% high quality steel wool.
2.We have 8 grades: 0000#,000#,00#,0#,1#,2#,3#,4# (From super fine to extra coarse).

ADVANTAGES:
1.Low carbon steel material,eco-friendly.
2.Faster clean and polish,save your time.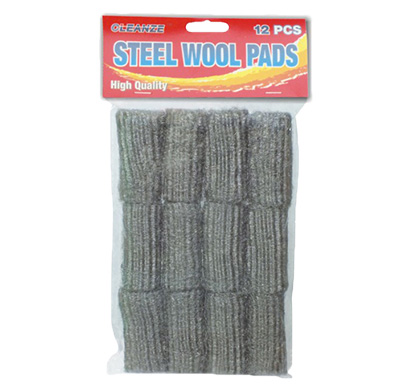 Specification

Application

With or Without soap

#0000

Super fine

smoth lacuer ,varnish ,shellac and polyurethane .Buff furniture and woodwork to high luster using wax or oil .cleans precision tools

With soap

#000

Extra fine

scuff sand between coats to remove imperfection .remove paint drips and splatters.remove wax or polish from fine furniture with soap and water

With soap

#00

Very fine

polish and restore aluminum ,copper ,brass and other bright metals .remove old finishes from antiques and stains from wood floor .clean and polish metal fiber wheels ,screens and metal lawn furniture.repaire burn marks on wood or leather .

With soap

#0

Fine

scour pots ,pans ,utensils and metal surfaces using non abrasive cleaners .clean porcelain ,tile and grout .Remove rust and protect metal tools using oil .Clean tires using souring powders or cleaners

With soap

#1

Medium

Prepare wood for primary coat and smoth raised grain .clean coppers pipes and fittings .Deg loss painted surfacesbefore appling coatings .clean linoleum floors and bowling balls

With soap

#2

Medium coarse

Remove paint from moulding and awkward corners . Etch porcelain and metal surfaces .remove wax build-up and scuff marks from floors .clean galss block

With soap

#3

Ccoarse

Remove old paint ,varnish ,lacqure and shellac .Clean rough metal or stove surfaces. clean engines and heavy machinery ..tuck into holes ,cracks and openings to control rodents ,birds and other pests

With soap

#4

Extra coarse

Remove the most stubborn paint ,rust ,dirt and varnish . strip paint and other coatings from exterior woodwork

With soap